Dining on home cooking at The Coombe House
Everyone enjoys good food and our residents are no exception. We always take their requests and ideas into consideration as we plan our menus together. We offer a choice of tasty and nutritious food and provide home cooking with delicious, well balanced menus making use of fresh ingredients.

We are always open to new suggestions and ideas. Special dietary or cultural needs will always be catered for. Our residents frequently chat to our cooks and enjoy discussing personal tastes and preferences.

We have three excellent cooks who will provide more alternatives to the agreed menu at short notice on request.
Breakfast is served from 7.00 am to 9.30 am (as requested) served either in the dining room or in the resident's room
Morning Coffee and biscuits is served at 10.30 am
Lunch (our main meal) is served at 12.30 pm
Afternoon Tea and home made cakes is served at 4.00 pm
Supper served at 6.30 pm
Evening Drinks served from 8.30 pm (as requested by the individual)


A Sample dining choice from our menu:
Breakfast: Choice of Fruit Juices, Choice of Cereals, Porridge, Eggs, Toast and Marmalade, Prunes, Grapefruit Segments, Fresh Fruit, Tea or Coffee.
Lunch: Roast Lamb and Mint Sauce, Roast Potatoes, Carrots, Cabbage, Peas. OR Cold Ham with Jacket Potatoes and Salad.
Homemade Apple Pie and Custard or Fresh Fruit Salad,Cream or Fresh fruit.
Supper: Scrambled Eggs on Toast / Home Made Soup and Selection of Sandwiches.
Fruit Mousse or fresh Fruit Salad and Ice cream and/or Fresh fruit.

A selection of Cheese and Biscuits is always served after lunch and supper. Coffee/tea is served in our lounge after meals. Wine is served by The Coombe House at Sunday lunch time and is available at other times. In addition, extra drinks or snacks may be requested at any time.
From residents and families...
"the food is homemade and tastes delicious' 'the meals are excellent"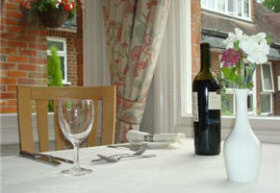 "I can have my meals in my room if I want to"